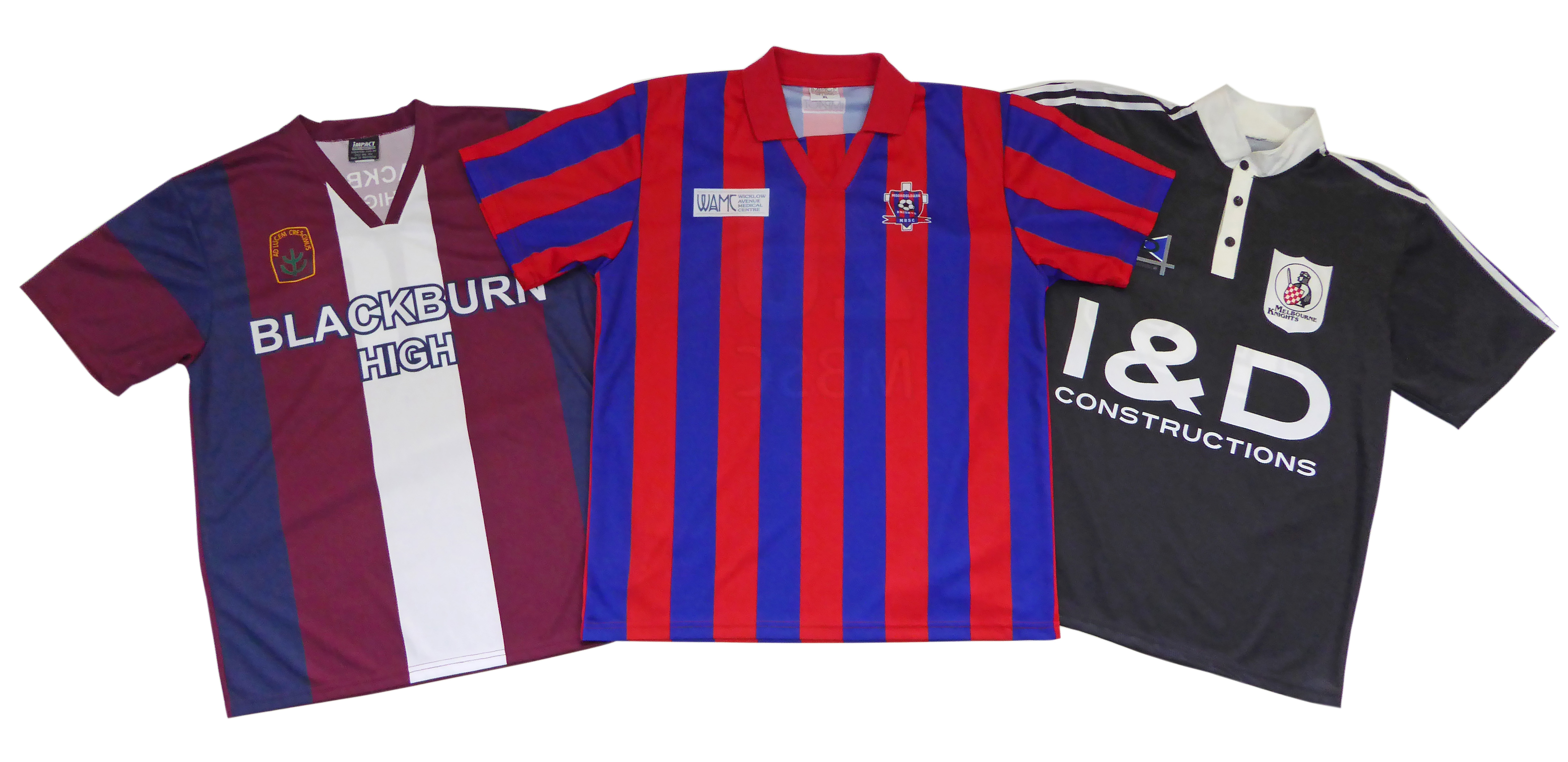 Soccer uniforms in a variety of designs
Impact Sports Promotions manufactures and designs soccer uniforms in Melbourne, Australia. We also manufacture soccer strips for clubs and teams throughout Australia.
You can either choose one of our designs for soccer uniforms below or we can help you create a unique soccer strip for you club or team. We can match colours to your existing soccer uniforms and necklines but if you can't find what you are looking for, Call us on 03 9879 4111 or Email us and we will be happy to assist.
We also supply Covo Soccer Gear and some other stock uniforms and club packages including tracksuits, hoodies, fleecy jackets, jumpers, drinks bottles and stubby holders, to name a few We also carry stock soccer uniforms from Covo and Bocini.Please contact us for more information.

Custom Soccer Uniforms and Uniform Manufacturers in Melbourne | Impact Sports Promotions
Are your club soccer uniforms drab, inconsistent, or otherwise lacking that spark to really stand out?
Custom soccer uniforms are a great way to achieve a cohesive team identity and look sharp on the pitch. Impact Sports carries and customises uniforms for clubs to give you the highest quality possible while remaining within budget as a cost-effective solution.
Tips Regarding Custom Soccer Uniforms
Getting custom soccer uniforms for your club shouldn't be random or haphazard. Here are some thoughts to keep in mind when determining your custom soccer uniforms in Melbourne:
You can choose a template from our options or customise one from scratch with our help.
You can match your current colours if you like them, or switch to other, complementary colours to ensure old merchandise still matches.
Choose a neckline that accents the design that you select. For sharper angles or shapes, a V-neck is a good option, while softer shapes and solid colours suggest round necklines.
There are many more considerations to bear in mind when working with soccer uniform manufacturers, but those are some of the basics. Many clubs opt to use a template that already looks good to them and adjust the colours to match the club accordingly.
Why Impact Sports Promotions is Cost-Effective
Impact Sports is not only one of the premier soccer uniform manufacturers but will also help you design custom soccer uniforms for your Melbourne club according to your needs and desire. Our two decades of experience with soccer uniforms have helped us to hone a sense for the kind of uniforms that serve well for clubs.
Beyond that assistance, we guarantee colour consistency in our custom soccer uniforms. We are the manufacturer and have a variety of procedures to control the output. Unlike overseas suppliers, we can promise you the same colour selection for each and every order and avoid some common mistakes that happen with other suppliers.
What Sets Impact Sports Apart as Soccer Uniform Manufacturers
There are also a few more reasons that Impact Sports Promotions is a solid choice for your uniforms:
Domestic Manufacturer – Impact Sports is based in Australia, with our factory and showroom in Ringwood, Victoria. We can also provide you with a much faster turnaround than our competitors because the company taking your order is the company making your order. Domestic delivery avoids having to worry about international shipping and customs, as well.
Ongoing Support – We have a facility that will help to create and manage an online store for your club or association. You've got enough work on your plate getting the club in shape for competitive games, but that doesn't mean that your fans shouldn't be able to get merchandise to support you. Let us help to make that a reality without absorbing more of your valuable time.
Top Up or Urgent Items – If you're caught by surprise and one of your players has ruined their uniform without a backup in their size, we're here to help. We'll be able to prioritise your emergency and ensure the whole team is in their uniforms on match day.
Impact Sports is proud about what sets us apart from the rest. Take advantage of what we have to offer by contacting us today.