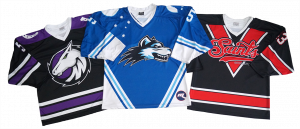 Ice Hockey jerseys
Impact Sports Promotions manufactures and designs Australian made Ice Hockey jerseys and hockey uniforms. With a variety of designs and styles to choose from, your club or team can invest in high quality Ice Hockey jerseys or hockey uniforms.
Designs for Ice Hockey and Hockey jerseys
We have a range of colours and styles available to choose from below, or we can help you with a custom design that truly suits your club or team.
Call us on 03 9879 4111 or Email us and we will be happy to assist.