Custom-Made Australian Baseball Jerseys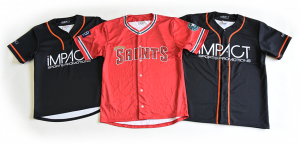 Does Your Baseball Team Need High-Quality Baseball Jerseys?
Not all baseball jerseys are created equal.
But here at Impact Sports Promotions you can expect the highest quality baseball jerseys made right here in Australia.
If you're sick of paying for itchy, stiff and uncomfortable jerseys for your baseball team, you've come to the right place. Unlike traditional, cut-and-sewn jerseys, our sublimated baseball tops are soft and comfortable, with no scratchy sewn-on patches to make your team's life miserable.
Get Consistent-Looking Baseball Jerseys Every Time
Traditional cut-and sewn jerseys allow no room for customisation. The patches you get are the same size whether they're on a child's baseball jersey, or an adult's. But our sublimated tops allow us to scale your design to any size, so you get great, consistent-looking jerseys no matter who is wearing them.
Our printing methods also allow you to customise your baseball jerseys, so you can add names, sponsors, anything you want!
At Impact Sports Promotions, we believe that 'close enough' is not good enough for you. Which is why our accurate colour-matching techniques will get you the exact colour you want, every single time. No need to worry about dye-lots and inconsistent colours that leave your team looking like a patch-work quilt. Our colours are consistent whether you're printing your first order today, or reordering 10 years from now.
We even record what printer your first order was printed on so that we can get your baseball jerseys exactly the same every single time
Your Choice of Materials
Our baseball jerseys come with a heavier or a lighter option. So whether your league has a summer season, a winter season, or both, you can find the perfect baseball tops for your team. Both materials are of the highest quality, so you don't have to worry about your tops pilling or looking shabby on the field.
We're Local!
Our jerseys are proudly and 100% Australian-made. We design and print right here in Australia, using only the highest quality Australian materials.
Because we're based in Melbourne, you can expect a quick turnaround, without having to pay exorbitant international shipping costs. No more paying hundreds just to wait and wait for your order to arrive from overseas.
Want More Information?
If you need more information or would like to discuss your custom order, call Impact Sports Promotions on (03) 9879 4111. Or send us an email at sales@impactsp.com.au.
You want your team looking as impressive as they play, so get them looking their best in high-quality, custom-made baseball jerseys.