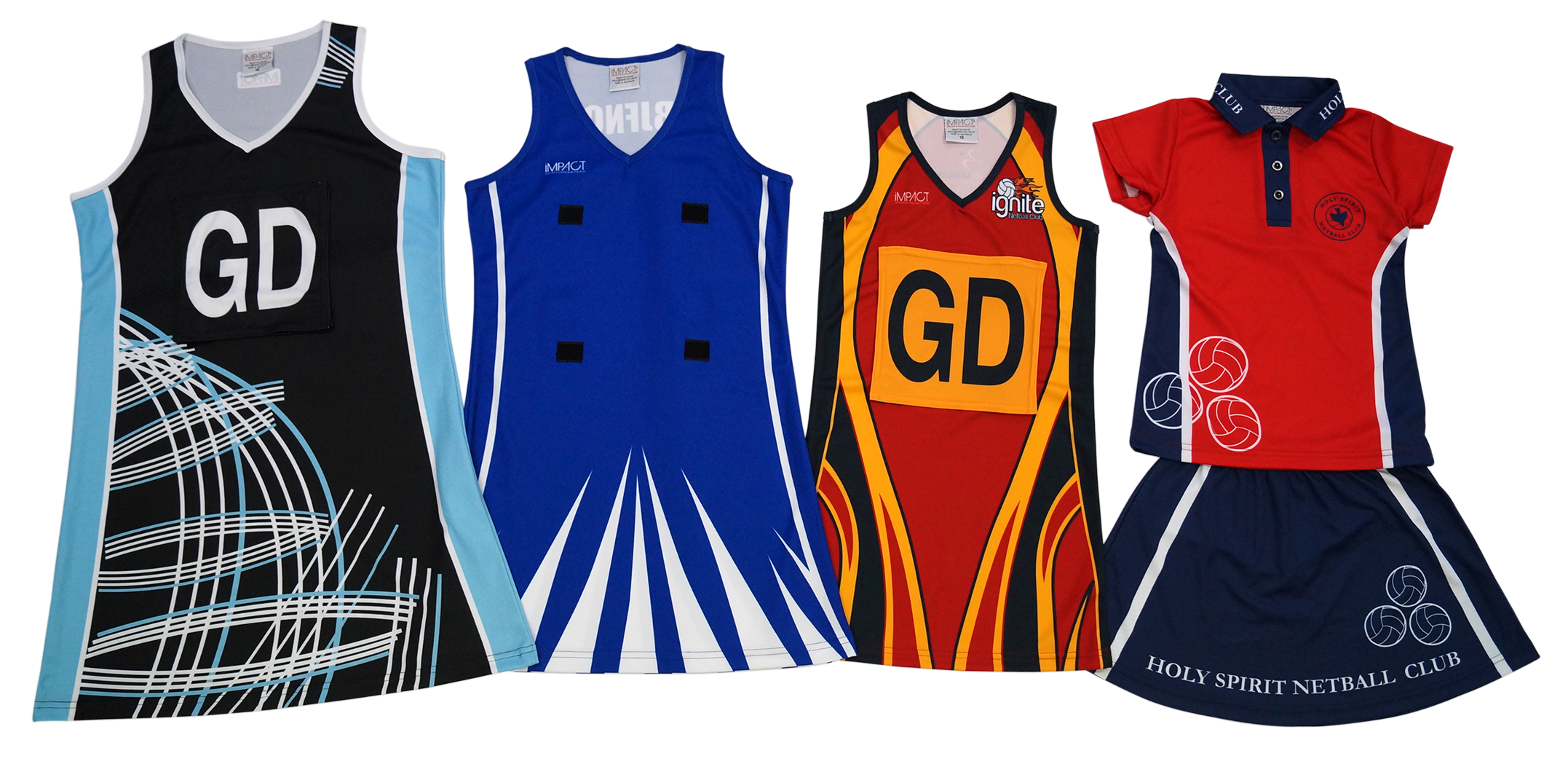 Netball uniforms and dresses
At Impact Sports, we manufacture all three main types of Netball uniforms. These include the traditional two piece, the one piece with built in undies, and "A" Line.
Custom designs for netball uniforms or dresses
With a variety of designs available, you can choose the netball uniforms that best suits your club or team. All of our netball uniforms and dresses are manufactured in either LYCRA or extra heave weight polyester mesh fabrics and supplied with optional bibs sets.
Call us today on 03 9879 4111 or Email us and we will be happy to assist.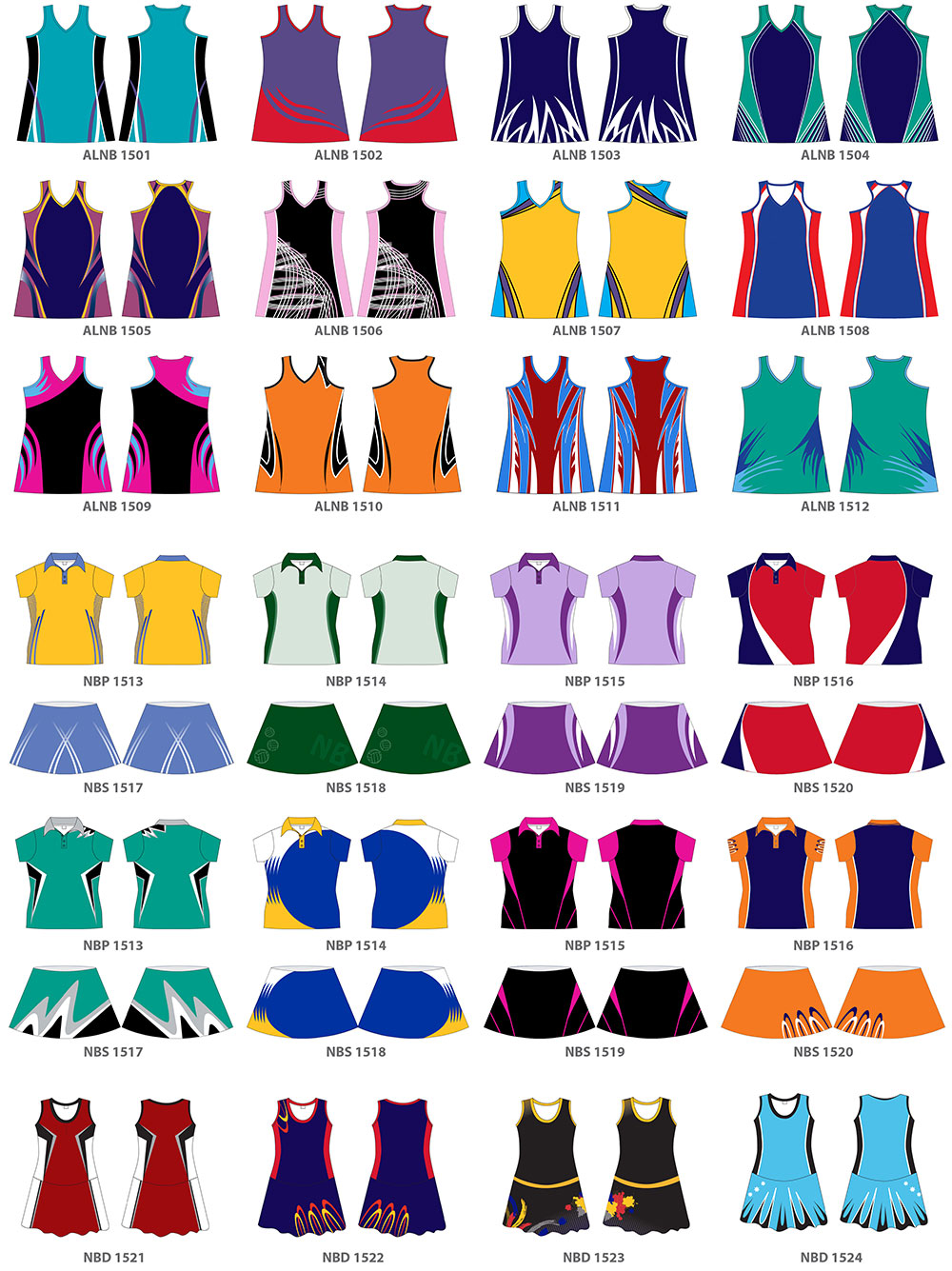 Acquiring Custom Netball Dresses and Uniforms in Melbourne With Ease
"Dress for success" is a phrase that has broad applications, not just in a professional sense, but in recreational pursuits such as sports, too. Are you in charge of sourcing custom netball uniforms for your Melbourne team? It's important to choose a supplier that can not only meet your expectations regarding team branding, but in quality, fit, and comfort, too. At Impact Sports, we have two decades of experience in delivering precisely that.
Quick Tips for Getting the Most Out of Your Netball Uniforms Order
You need netballuniforms — what next? Figuring out where to take your business is important, but there's plenty of other things to do first. Consider a few of these helpful tips for making the process of acquiring netball dresses in Melbourne much easier.
Understand what your team needs and start with a strong design. Remember that the best looking uniform isn't one with a "busy" design, but one that expresses who your team is with ease. Vibrant colours and the tasteful application of your team's logo can be all you need.
Use a proof as a clear and direct way to ensure you're getting what you want. At Impact Sports, we proudly offer a full fabric proof, so you can experience exactly what you'll receive in the final order. Contrast this with the digital-only proofs you often receive from overseas manufacturers, which leave you with no real way to sense quality.
By keeping these tips in mind as you go forward, you can avoid common pitfalls and ensure that your uniform budget is well spent on products that make your team proud to play together.
Why You Can Trust Impact Sports With Custom Netball Uniforms in Melbourne
Trust is essential when you intend to place an order for an entire team, so why do we deserve yours? First and foremost, you're dealing with a local partner. Australian-owned and operated, we produce everything domestically using proven, trusted materials. Next, we are committed to accountability and customer satisfaction. Finally, our track record of success shows that we're a team you can work with effortlessly on all orders.
What You Can Expect Working with Impact Sports for Custom Netball Dress in Melbourne
So you choose to put your trust in our services. Now, what can you expect when you make us your apparel partner?
Fast, efficient service with rapid turnaround times even for small top-ups
High-quality results produced in a local, ethical environment
Long-lasting garments with colours that stay true even after many washes
With our service on your side, outfitting your team is easier than ever. We also encourage you to take a moment to learn more about the sublimation process we use to colour every garment.
Ready to get your team set for success on the netball court? We're here to help. Explore our apparel options for netball players, or reach out online to start building an order today.